Asking Matters Memberships for Your Entire Organization
Get membership at Asking Matters for each of your team members …at a reduced rate!
Learn new things every week individually to share with the team, keep asking front and center on your radar screen, and be inspired by other members in our community.
Three Levels of Membership Available
Tier One: Basic Membership
Have your Entire Team Learn Along the Way and Become Part of a Community
5-15 members: $7 per person per month
16-49 members: $6 per person per month
50 or more members: $5 per person per month
This cost-effective membership can help get your staff more comfortable asking for gifts and building relationships for your organization. We will get you set up with memberships for your selected team members or everyone at the organization! Each member only needs to devote 1-2 hours of their time every month to learn over time.
Every membership includes:
Access to the Asking Matters Members Portal: Every board member will be given a unique user name and password, which they will use to access the Member Portal at Asking Matters. This is the hub where they can sign up for webinars, view and save resources to their user library, and update their information.
Office Hours: Two 30-minute live webinars every month, presented by me (or a guest expert on occasion!). One covers a specific topic, and one the other is an opportunity for you and your fellow members to ask any questions you have. I'll solicit those questions in advance and you can also ask any other questions you have as we go along. These sessions will be recorded and sent to you, and they'll also reside on the website.
Monday Morning Matters: A special piece of asking advice in your inbox at the start of every week to get you started on the right foot!
Membership in the Member Outpost Facebook Group: a community of fellow askers from around the country and the world. Fundraisers with similar experiences – development professionals, executive directors, board members, consultants, and more. Share your struggles, learn from them, and compare notes. The opportunity to connect with so many others who know exactly what you're dealing with is invaluable.
A Vast Array of Downloadable Resources: exercises, sample materials, guides, and more. Downloadable so you can access your materials any time you need them! This also includes access to a personal Membership Library, where you can store your favorite resources and webinars!
Tier Two: Membership Plus
Includes Basic Membership, plus your entire team learns about their specific Asking Style, and how to use it to their advantage!
5-15 members: $9 per person per month
16-49 members: $8 per person per month
50 or more members: $7 per person per month
Get access to 35-minute recorded trainings for every Asking Style, an interactive worksheet, and bonus learning exercises – all hosted on a custom landing page for your organization! We will get you set up with a custom, private landing page which hosts all four Asking Style Recorded Trainings, the training worksheets, and bonus exercises to do with your team.
Have your entire team learn about their Asking Style, and how to use it to their advantage with our Asking Styles Recorded Trainings!
Includes Basic Memberships for your entire team!
Here's how the process works:
We set up a customized, branded landing page with your logo and a photo of your choice
Each board member watches the recorded training for their Style and completes the related worksheet
Everyone can watch all the trainings and come back as often as they want
Includes instructions for three Asking Styles exercises to conduct virtually or in person after the trainings are completed by the board. The exercises include:

Your Asking Style Matters – Helps board members embrace their differences as fundraisers.
Find Your Own Words – An opportunity for board members to practice telling their personal story.
Ask as You'd Be Asked – Help board members understand that how we liked to be asked impacts how we go about it ourselves.
get membership plus for your team
Tier Three: Premium Membership
Includes Membership Plus, and your entire team gets to take THE Asking Course!
5-15 members: $15 per person per month
16-49 members: $13 per person per month
50 or more members: $11 per person per month
Have your staff dig in deep at their own pace by taking the best online self-guided Asking Course. Get all the skills and tools your team needs to be super successful, in a year long course.
The Best Online Self-Guided Asking Course Out There
Includes Basic Memberships for your entire team, and the custom landing page from Membership Plus!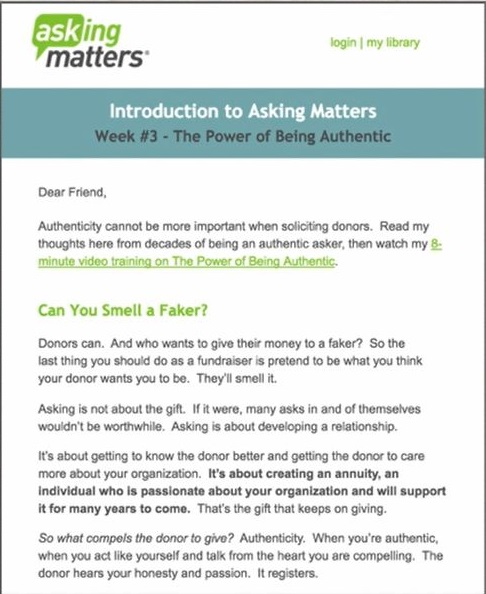 How The Asking Course works:
Incredible Content covering a massive variety of crucial topics (see the course syllabus below). The Course consists of six Learning Modules and spans the entire year, with new lessons delivered to your inbox each week. Most lessons include an in-depth video, worksheets, and bonus materials. Every lesson has a dedicated members-only page on the Asking Matters website, and past lessons can be accessed at any time!