The time to strengthen your board is now, even with everything else on your plate. During the pandemic, critical issues are constantly arising for non-profits, and if your board is not working efficiently and strategically as a team, it can't take ownership of the issues. For some organizations this alone could cause their demise. When the pandemic itself is over, it will be a time to rebuild and grow. The stronger your board is now, the better positioned you will be to thrive in the future. We are bringing this series of blog posts to them to help build the strongest board possible at this time.
–Michael Davidson and Brian Saber
---
The work of the Board takes place primarily in committees that analyze issues for board decision. It is especially important now that the work be focused on specific deliverables relative to your organization's current challenges. You may, in addition, bypass the committee structure to form ad hoc working groups that engage the best mix of talent to address specific issues.
Program Planning Committee
This committee generally works with staff to develop and monitor program outcomes, and reviews programs that may have an impact on the mission. Today that may well include a focus on developing service priorities and strategies for the current environment and the new realities.
Finance/Audit Committee
In addition to the audit process, this committee has four primary roles, numbers 2 and 4 of which are particularly critical at this time:
Approval and monitoring of the annual budget
Monitoring the organization's cash position
Developing and monitoring financial control policies
Considering alternative financial scenarios
Many nonprofits are facing cashflow issues due to decreased program income, cancelled fundraising events, lost government contracts, and more. This is creating payroll and other immediate issues which staff need help managing. Further, in light of this, the key need now is for the development of alternative financial scenarios for organizational survival, and the Finance Committee must develop them, in conjunction with the Executive Director and other key staff, to bring to the board. This is a good example of an issue that should come directly to the full board even though it could be considered the type of emergency the executive committee or management team addresses.
Resource Development Committee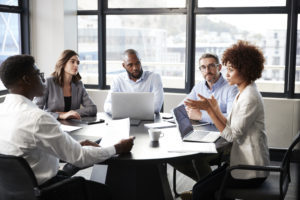 This committee works with the staff to create a fundraising plan to be adopted by your board and then provides oversight for its implementation. It is also charged with leading the process of soliciting your board for its annual contributions, as well as working to engage your board in outreach for resource development.
Given the pandemic, which has changed the fundraising landscape significantly, it is imperative that board members step up to the plate. The committee should develop a plan for board members to meet or exceed their previous fundraising impact (both their contributions and the funds they raise). Further, the fundraising event model has been transformed, and this will impact how board members fundraise.
In some cases, organizations have successfully pivoted to virtual fundraisers, but many events simply cannot happen, and over the long run it is unlikely people will continue to support virtual events as they have in-person events. If there ever were a time to finally start to employ the board as cultivators and stewards of the organization's major gift donors, this is that time.
Governance Committee
The Governance Committee, in addition to nominating and orienting new board members and renewing board member terms, has the responsibility of putting forth the slate of officers each year. This is one of the most strategic tasks, as the officers set the course for the board. This work must go on.
In addition, this can be a good time to work on recruitment strategy. Some organizations have used this time to develop a board recruitment prospectus and to reach out to key stakeholders and supporters for recommendations of potential board members. Staff are key to this process. They can research and provide best practice examples and write draft documents with committee direction.
Some organizations have even conducted preliminary interviews with recommended candidates, though admittedly this can be challenging and we'll talk more about this in next week's post.