Funraising Training Webinars and Courses
Interact with Brian Saber in These Live Advanced Training Sessions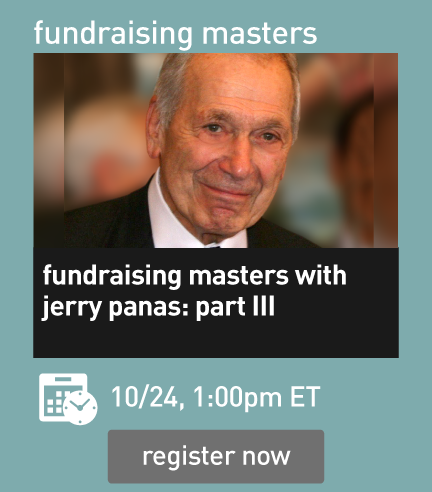 Fundraising Masters with Jerry Panas: Part III
I am honored to announce that Jerry Panas, the fundraising pantheon of our industry, is returning to our Fundraising Masters series on October 24. I hope you'll join us.
Longtime members will recall that Jerry has been on our program twice before to share his wisdom and take questions from the field – and now he's joining us again!
upcoming and recorded webinars
upcoming CharityHowTo webinars
"Brian's expertise is exceptional and his affable style and personal manner were exactly what we needed to ensure our volunteers felt comfortable and confident for the campaign. We didn't miss a thing having Brian's training delivered to us online from the U.S. and the cost compared to an in-house local consultant was a very pleasant bonus. I highly recommend Brian and his team."
Karen Gair, Director of Development & Community Relations
Monte Sant' Angelo Mercy College
"Brian's deep expertise and experience combined with his low-key personal style really resonated with a skeptical audience.  The "asking styles" gave our board members permission to be themselves, alleviating much of the anxiety around asking individuals for major gifts.  I found Brian to be very easy to work with and discovered several "aha" moments while participating in his training."
Andrea Kaufman
Mid-Minnesota Legal Aid
"Brian Saber is a phenomenal speaker and is very current with the asking world of Development. We hosted Brian for our November Women in Development program regarding "What is your Asking Style?" It was after this presentation that I had professionals in the industry for over 20 years come up to me and said that this was the best program they have been to and how enlightened they were with his wealth of information."
Erica Warner, Program Co-Chair
Women in Develop of Northeast New York