Funraising Training Webinars and Courses
Interact with Brian Saber in These Live Advanced Training Sessions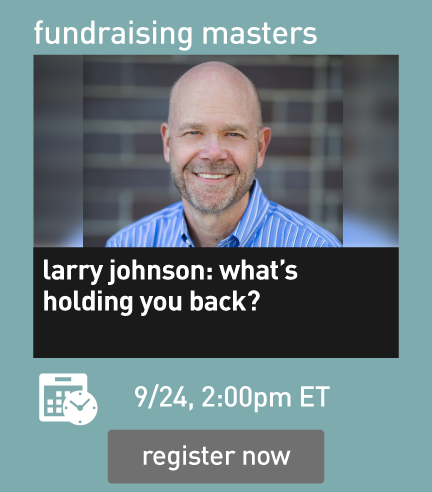 Fundraising Masters with Larry Johnson
What's Holding You Back?
Join fundraising expert Larry Johnson as he helps you refocus your work to create a sustainable, scalable and permanently successful fundraising program. Larry believes the number one dysfunction in the nonprofit sector is not knowing, understanding and acting upon the universal natural laws of philanthropy. Period. His goal is to help you put principles before methods. Principles anyone can learn and apply, to eye-popping results. What are they?
Rubber Stamps Don't Fundraise
Get Your Board Will Be More Engaged in Fundraising This Year!
Are you beating your head against the wall trying to get your board fully committed to fundraising? Do you think your board members are not making personal gifts that represent their commitment and capacity? Do your board members begrudgingly send out invitations and solicitation letters year after year? Does everything seem to fall on deaf ears?
Here's why, rubber stamps don't fundraise! Our comprehensive online course will help get your board on track for your most successful year ever! We're even offering a FREE 2-week trial – don't miss out.