Fundraising Masters with Larry Johnson
WHAT'S HOLDING YOU BACK?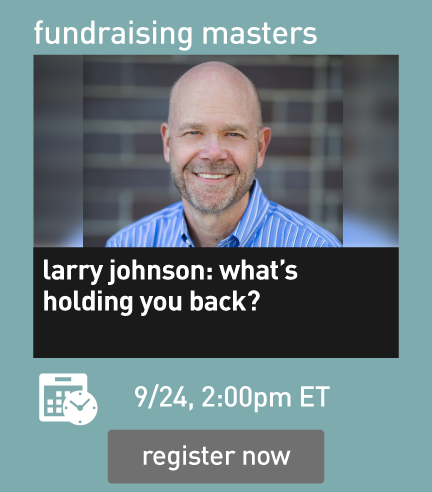 WHAT'S HOLDING YOU BACK?
Join fundraising expert Larry Johnson as he helps you refocus your work to create a sustainable, scalable and permanently successful fundraising program.
Larry believes the number one dysfunction in the nonprofit sector is not knowing, understanding and acting upon the universal natural laws of philanthropy. Period.
His goal is to help you put principles before methods. Principles anyone can learn and apply, to eye-popping results. What are they?
In this session, Larry C Johnson, author of the award-winning book of the same name, will share The Eight Principles of Sustainable Fundraising, and put you on the road to that sustained, scalable, and permanent fundraising success!
About the Presenter: Larry Johnson
Larry is an internationally recognized coach, trainer and thought leader in philanthropy. With thirty years of experience, he has raised over $500M. He's coached the boards, executives and fundraisers of hundreds of nonprofit organizations in the United States, Canada and Great Britain. He speaks widely and serves on several boards including The Philanthropy Council of The Carter Center, the philanthropy of the 39th President of the United States.