Why does your nonprofit exist?
Do you feed the homeless? Advance equality? Cure disease? Support victims? Elevate us all through the arts? Increase our faith?
There are so many worthy causes and movements in the world and if you have devoted some portion of your life to making the world a better place, I absolutely salute you. You're doing incredibly important work.
But no matter what your nonprofit does, you need money to do it. And today, in the midst of COVID-19, chances are you are finding it harder to raise it or need more to serve an expanded need.
You need money to build your programs so you can impact more lives – to make a difference in the world. The more money you have, the more impact you can have.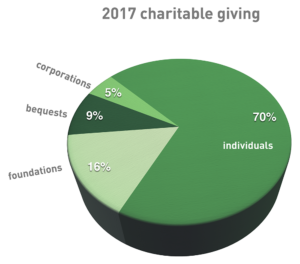 Here's a fact you might not realize. Nearly 87% of all charitable gifts come from individuals. Not from corporations and big foundations. But from individuals. 69% is in outright gifts. 9% is in bequests from individuals. And 8.5% – half of all foundation gifts – is from individual and small family foundations, where individuals are making decisions about their own money. Nearly 87% in all!!!
And the biggest gifts by far come from asking individually, face-to-face when possible, and ideally in person (hopefully, one day soon, we can all do that again).
But here's the thing. Asking people for money is hard. Really hard. And the more you ask for the harder it seems, at least for most of us.
Heck, I've been doing it for more than 30 years and I STILL find it hard.
That's why so many of us put it off or do less of it than we should. And I get it. It's anxiety provoking. Are we asking for the right thing? Will it be awkward? Will we be rejected? No one likes those feelings.
If you're in development, it's your job. Sure. But even you come up with excuses. Maybe you think you don't have enough information. Or the donor hasn't been cultivated enough. Or you've got too much else on your plate (including endless special events).
So you put it off. But if you do that, you're doing your nonprofit – and your important mission – a major disservice. After all, if you fundraise for your organization, you're the engine that makes everything else work. And if you want to move forward and have impact, you need an engine that's efficient and productive.
Perhaps you're the executive director and you think fundraising isn't your job primarily. But you've got to remember that no money means no programs, and you still need to lead by example. Nothing could be more important, and the overall success or failure of your organization ultimately rests on your shoulders.
And many executive directors have never had any fundraising training at all. Most come from the program side and then are expected to be master fundraisers right out of the gate. It's much easier to just avoid the whole thing.
Or perhaps you're a board member who wants to do the right thing but have no idea what that means. And hitting up all your friends, family and business associates makes you cringe.
Whatever your personal role at your organization, I want to help you get a whole lot better – and more comfortable – asking people for money. Your organization depends on it. Here's what I have in mind.
*********************************
I've created a FREE online workshop that is designed to help everyone at your organization who has any level of responsibility for asking people for money.
The workshop is called, "Don't Ask, Don't Get," and is made up of 4 webinars that all build on the previous webinar.
One thing that's really cool about how this is set up is that all the webinars will be recorded and you can watch these videos whenever it works for you. They'll be available to you 24 hours a day over a 2-week period. So you don't have to worry if you can't join me live.
Also, I'll personally be available during the workshop on live Q&As to answer your questions. But if you miss them, the recordings of those will be available as well.
Oh, did I mention that the workshop is entirely free?
Here's just some of what you'll learn in the workshop:
An entire system that will help you get a whole lot more comfortable and effective asking for major gifts and other funding, even if you've never had any fundraising training before
How to ask for money in a way that is 100% true to who you are as a person
Who should be on your prospect list
Exactly when in the meeting is the right time to ask, and how much to ask for
How to understand and use your personal Asking Style
A 6-part process to conducting a fundraising meeting
In just two weeks, if you fully participate in the workshop, you're going to become so much better and more comfortable asking for money.
WORKSHOP DETAILS
When: The workshop starts on July 20th. Webinars are the following days/times:
Monday, July 20th 1:00pm – 1:45pm ET
Wednesday, July 22nd 1:00pm – 1:45pm ET
Friday, July 24th 1:00pm – 1:45pm ET
Monday, July 27th 1:00pm – 1:45pm ET
Time Commitment:  I know you're busy, so I've kept the webinars pretty short though long enough to have valuable content. And the recordings will be "on demand" so you can watch them whenever you've got a break. You can also share them with fellow staff and volunteers.
Cost: The workshop is 100% free!
How to join: It's simple. Just go to https://www.dontaskdontget.org/register and sign up.
Ready to up your game? Then join me for "Don't Ask, Don't Get." It's easy, it's free, and you'll walk away a better asker – I promise.
Here's to a successful year of asking for gifts, even during these unprecedented times.
Brian