If you're like most fundraisers, you've got way too many potential prospects. Some days it seems as if everyone can be a prospect – including your mother! The sheer magnitude of the job is enough to stop you dead in your tracks.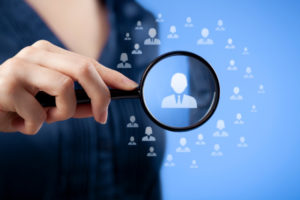 But here's the thing. If you set out to cultivate everyone, you'll cultivate no one. And if you cultivate no one, I can guarantee your solicitations won't result in the gifts your organization needs to thrive.
One of the big things we'll cover in my upcoming free workshop,
Don't Ask, Don't Get
, is how to choose the right prospects. Which ones are worth your time and are more likely to become bigger donors?
If you want to dive deeply into this with me, make sure you register here.
For today, I want to briefly touch upon the issue.
Why Can't We Focus?
You look at your networks and all the lists you and your team have put together. There are so many people who seem to have potential.
But the truth is, we're setting the bar too low. You need the discipline to say no – "no, I can't cultivate and solicit this donor because I only have limited time and I need to focus on so-and-so."
Easier said than done, I know, but you've got to start by setting standards.
There's always some rationale for keeping people on your list even when they don't give substantially and you're doubtful they will – a relationship to the organization, a history of involvement, they keep seeking you out.
But let's never forget the Pareto Principle, the 80/20 rule, which says that 20% of the effort will result in 80% of the results. Amazingly, it holds true for fundraising as it does for just about everything in life. That means 20% of your donors will contribute about 80% of your gifts. For capital campaigns today it can actually reach 90/10!
Who Are Your 20%?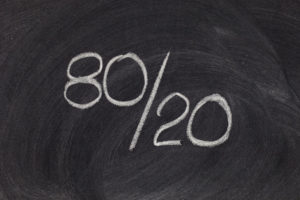 So, are you spending 80% of your time on the 20% who are really providing the fuel for your organization? Do you even know who the 20% are? That's the first step. If you've got 500 donors, who are the 100 largest donors? This is an eye-opening exercise in and of itself. You'll be surprised who is and isn't on the list.
Once you've got that list, ask yourself whether you can actually cultivate that many people. What would it take? Can you do it with the current staff and volunteer efforts? If not, is it worth finding more resources to solicit that whole list? If that's not an option, cut the list down to size –starting from the top. Whatever the size of that final list, spend 80% of your time on these donors.
Then, with the other 20% of your time, figure out who the other best prospects are. Maybe they're consistent long-time donors who haven't gotten much attention. Or low-level donors you know who have great capacity and are worth some cultivation. Maybe this list includes a few of those sticky/political situations where you've got to pay some attention even though your gut says the payoff won't be there.
If you start with the 80/20 analysis you'll already be more strategic. You won't be thinking about your mother any longer (well, unless she's really a great prospect!) and everyone else you meet along the way won't feel like a prospect either.
How to Choose the Right Prospects
I'm going to get much deeper on this in my upcoming free workshop. Here are the details:
It starts July 20th
There are 4 webinars (recorded in case you can't attend live) in the series. Each video builds on the prior one
There will also be a bunch of opportunities to ask me questions live (or to watch the Q&A recordings if you can't make it live)
It's 100% online
It's 100% free
I hope you'll join me. You can sign up here.
And if you know others who could benefit from this training, please share this with them.
Here's to raising the funds your organization needs to fulfill its vision.
Brian