Attention Fundraisers!
Enrollment for Asking Matters membership is currently closed.
If you would like to be notified when we re-open for enrollment, please click the button below.
Face-to-Face fundraising is the most important kind of fundraising there is.
Nothing else comes close.
I can teach you…
The step-by-step techniques the best askers use to raise more money.

The difference it makes when you know how to integrate your unique personality into your asking process.

To become the hero of your organization – the person who makes all the great work possible.
If that's what you want for you and your organization, you're in the right place!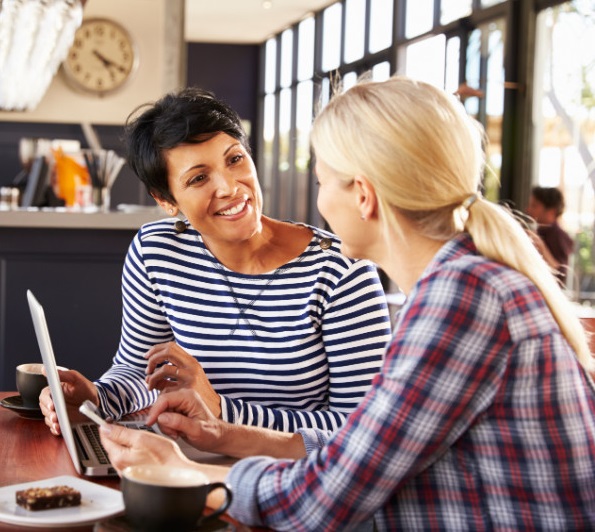 Did You Know?
88% of all nonprofit funding comes from individuals.
(Not from grants. Not from special events.)
And the biggest individuals gifts come from in-person asks. By far.
But how do you overcome your "asking anxiety"?
Until Now, You've Been on Your Own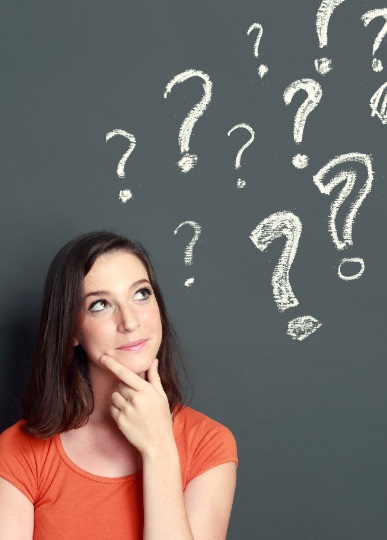 You became a fundraiser because you care. You want to make a difference.
But if you're like most fundraisers, you jumped right in. The only training you ever got was "on the job" training.
So while you may have had some success, you've really been winging it.
You're hoping you do the right things, but you're not really sure.
Who should you be approaching?
How do you best prepare for a one-on-one solicitation meeting?
Where should the meeting be held?
Are you asking for too much? Too little? At the wrong moment?
How do you redirect the conversation if it's not going well?
How do you even get yourself motivated and psyched up to ask people for money in the first place? It just feels so uncomfortable!
If that's you, I've got two things to say.
1) Your story is much more common than you think, AND
2) I can help you. A lot.
You are here because you want to radically improve your fundraising game.
So it's GREAT you found Asking Matters!
Asking Matters is THE most effective and acclaimed online resource for any fundraiser who wants to become more confident, motivated, and successful asking face-to-face.
Led by me (Brian Saber) and my team of well-known fundraising experts, Asking Matters can help you become a top-notch asker.
Asking Matters Experts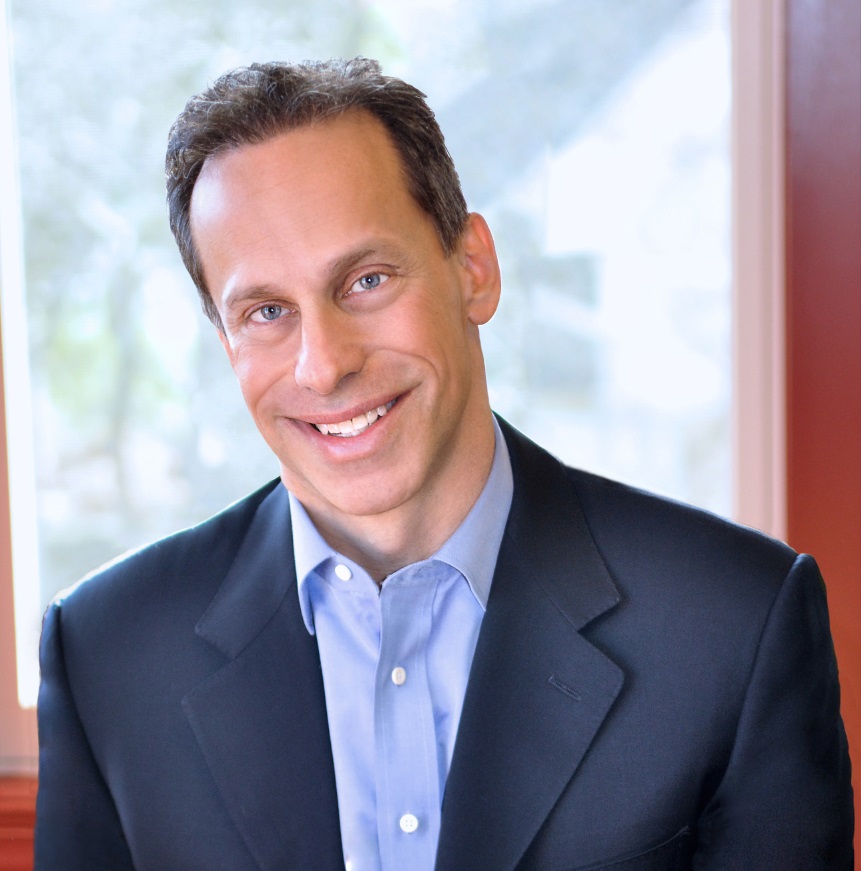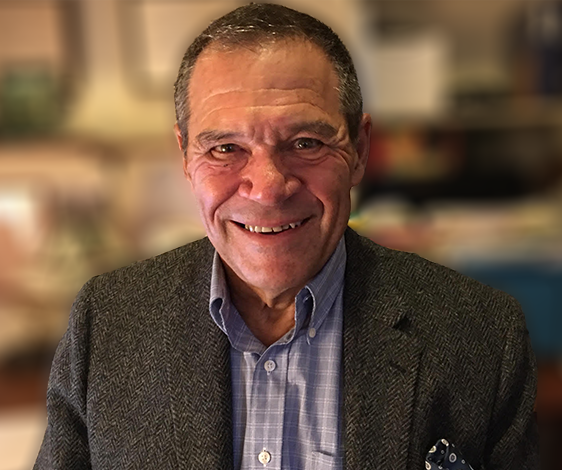 Michael Davidson
"The board coach" – an expert on board governance, the lead trainer and curriculum designer for the United Way Linkages program, and the lead governance trainer for The Support Center for Nonprofit Management.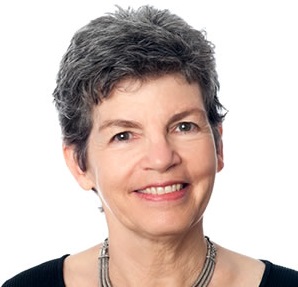 Andrea Kihlstedt
Capital campaign expert, author of numerous books on campaigns, training your board to ask, and more. Co-founder of Asking Matters. President of Capital Campaign Masters.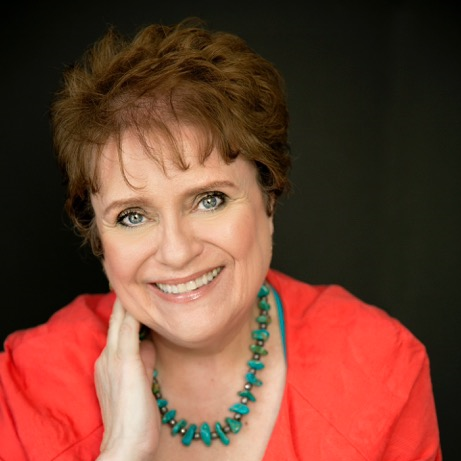 Sue Kindred
Sue's a master at effective storytelling. She's a business strategist and president of SK Consulting with more then 30 years experience helping nonprofits and member-based professional associations reach their highest potential.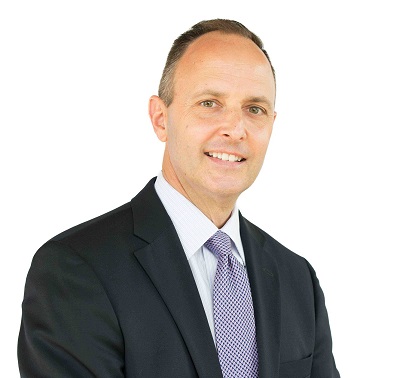 Joe Tumolo, CAP
Planned giving expert and training expert. Joe trains and coaches fundraisers and board members all over the country and serves part-time as major and planned giving officer for Salesian Missions in New Rochelle, NY.
Maybe…
… you're just starting out and don't know the basics, OR
… you've made a few asks but feel unsure and want to step it up, OR
… you're an experienced asker who knows there's always more to learn…
Your membership in Asking Matters will help you become more self-assured and effective at raising money one-on-one than you may currently think possible.
Think for just a moment about the difference that could make for your organization and – more personally – for your career as a fundraiser.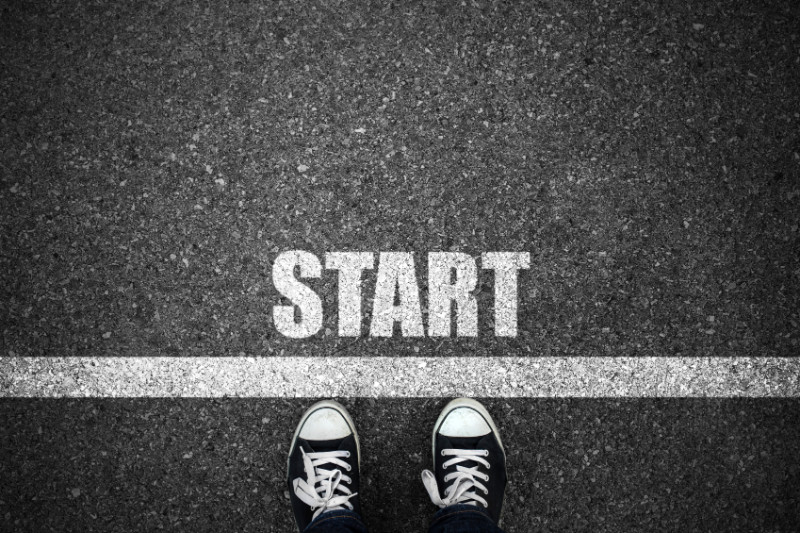 ---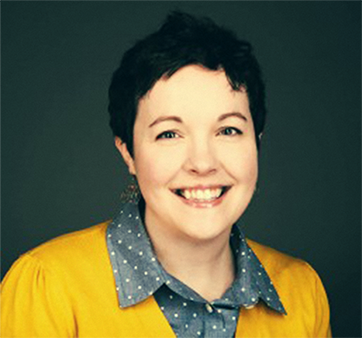 "…It has revolutionized my fundraising to know that I can work with my own personality style (Kindred Spirit/Mission Controller) to be successful."
– Kylie Pierce, Development Director, Rome Capitol Theatre, Rome, NY
Hi, I'm Brian Saber.
I've spent the last 33 years as a frontline nonprofit fundraiser. Sometimes as my organization's only fundraiser. Sometimes as a Development Director. Twice as an Executive Director.
In those 33 years, I've led more than 3,000 donor meetings and raised hundreds of millions of dollars for my organizations.
There are 3 critically important things I've learned along the way:
1.One-on-one fundraising is the most important kind of fundraising by far
2.Even the most experienced fundraisers feel uncomfortable asking for money
3.The vast majority of professional fundraisers are winging it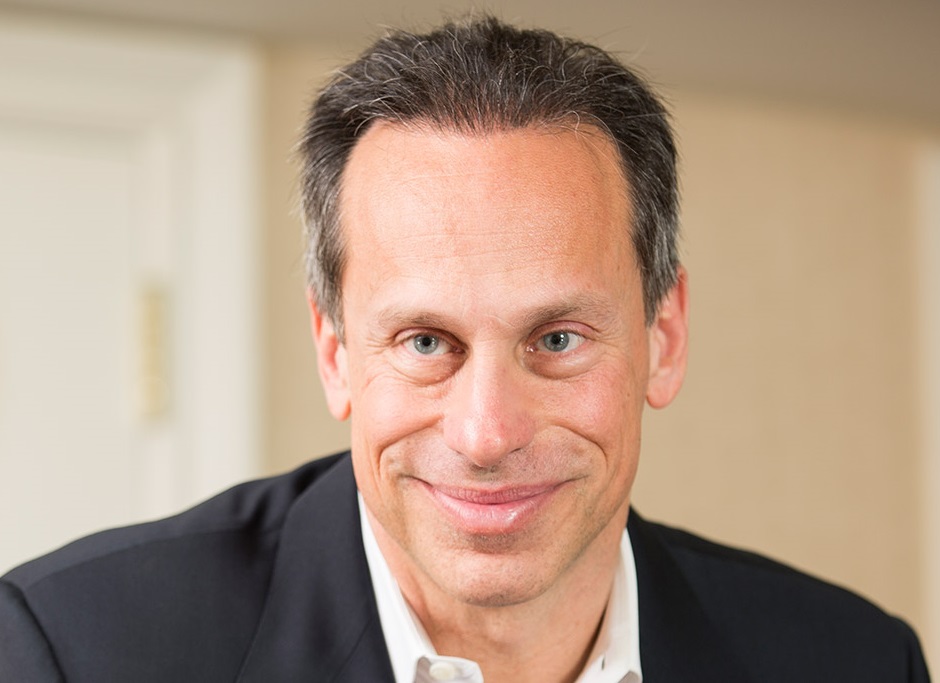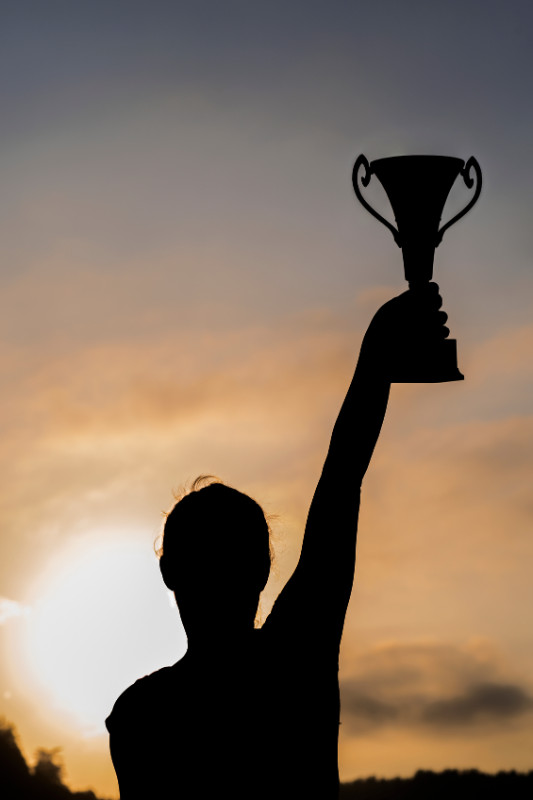 We Can Do Better!
In fact, it's critical that we do better for our clients and for all those who depend on our organizations.
I felt so strongly about this that 8 years ago I created Asking Matters to help my fellow fundraisers do just that.
And while I still make major gift asks, lead capital campaigns, and provide trainings for clients like The Salvation Army, the U.S. Olympics Committee, NPR, Prevent Child Abuse America, and many more great nonprofits, I'm most proud of the positive changes so many fundraising professionals have made through their work in Asking Matters.
Simply put, Asking Matters has enabled many more nonprofits to thrive and grow. The impact has been enormous.
And I want to share Asking Matters with you now. Today.
Asking Matters is THE home of the Asking Styles, a revolutionary concept in the field that has changed the lives of countless fundraisers.
Most fundraisers seem to think there's just one approach to success with face-to-face fundraising – you have to be an extrovert and natural "salesperson." And if you don't fit that stereotype, you just can't be very effective.
But there's nothing further from the truth.
What the Asking Styles teaches us is that there's more than one way to approach face-to-face fundraising and your best approach critically depends on your own strengths and personal challenges.
Each and every member of Asking Matters learns his or her unique Asking Style and discovers practical and powerful ways to apply it, from choosing and communicating effectively with prospects, to making the strongest personal case for support, to leading effective meetings that lead to large gifts.
It's time to get past the mental barrier that there's only one way to be effective at asking for money face-to-face.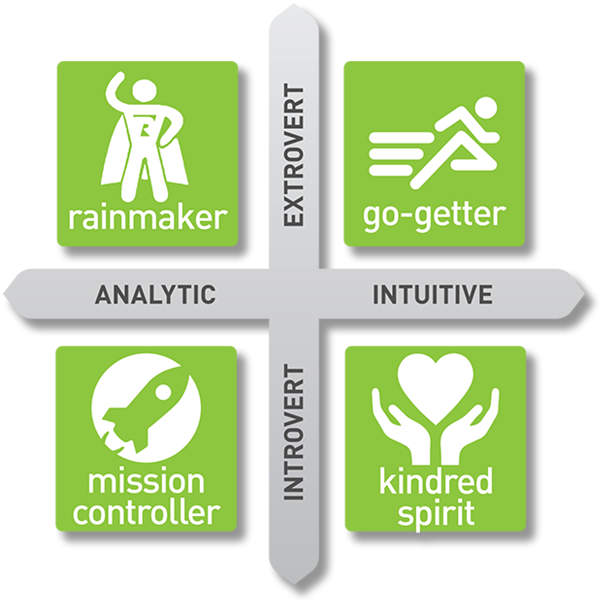 When you become a member of Asking Matters, here's what you get…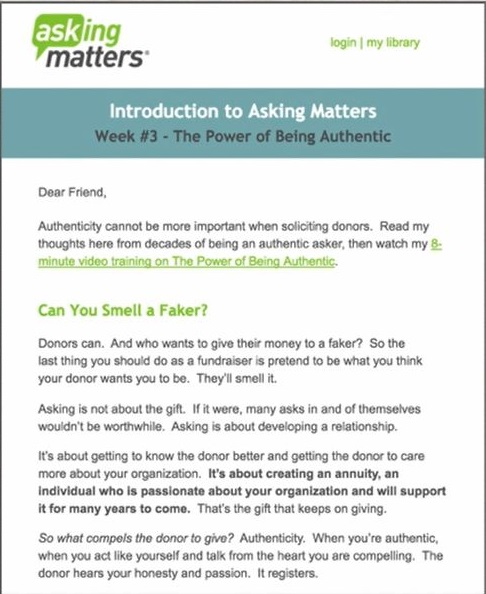 Incredible Content delivered to you weekly on important topics such as:
How to apply your Asking Style throughout the asking process to take advantage of your unique personality traits
How to develop your strongest case for support
What to do when you face resistance to meeting
How to get your board to give its biggest gifts and actually fundraise
How to build your prospect list
How to make sure you ask for the right amount
… and dozens more topics
All the content is delivered in bite-sized chunks with a focus on implementation over theory. I know how busy you are and I want you out there asking!
Expert Webinars presented regularly by top fundraising experts like Jerry Panas, Amy Eisenstein, Jeff Brooks, Tom Ahern, Lori Jacobwith, Andrea Kihlstedt, and more. The value of these webinars by themselves is worth at least 10 times what membership costs.
Regular Opportunities to Ask the Expert – me! – any questions you have. This is your opportunity for a deeper dive on how to apply what you learn to your specific needs.
A Community of Fellow Askers from around the country and the world. Fundraisers with similar experiences – development professionals, executive directors, board members, consultants, and more. Share your struggles, learn from them, and compare notes. The opportunity to connect with so many others who know exactly what you're dealing with is invaluable.
A Vast Array of Downloadable Resources – exercises, sample materials, guides, and more.
Simply put, there is NO better resource on asking face-to-face out there.
If you would like to be notified when we re-open for enrollment, please sign up below.