Fundraising Masters with Jerry Panas
Part III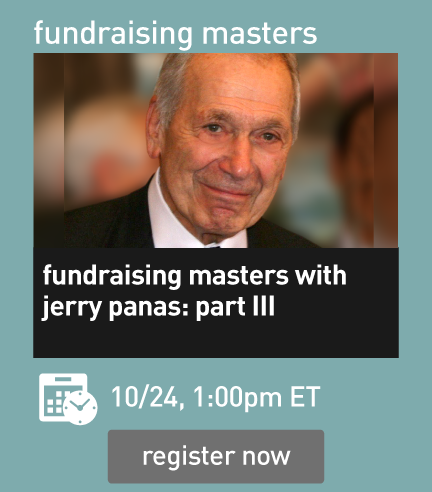 Click below to register for the webinar on Tuesday, October 24th at 1pm ET!
Spots are limited.
If you're a member, sign up below!
Jerry Panas is back for Part III of Fundraising Masters!
I am honored to announce that Jerry Panas, the fundraising Pantheon of our industry, is returning to our Fundraising Masters series on October 24. I hope you'll join us.
Longtime members will recall that Jerry has been on our program twice before to share his wisdom and take questions from the field.
What you probably didn't know, and I didn't know until last week, is this is the ONLY webinar Jerry does. Seriously. Jerry has turned down every other request for years, and has only participated in our Fundraising Masters series. That is an honor for me and a coup for you as it's the only opportunity to hear Jerry live this year unless you are attending one of the few conferences at which he'll speak.
Regardless of whether you participate live, you'll get a link to the recording, which will reside in the member site…
…but what a treat to hear a true master live, so I hope you'll join me on the 24th.