Welcome to Asking Matters: Home of the Asking Styles!
HOW you ask depends on WHO you are.
The breakthrough concept of Asking Styles makes it possible for anyone to become a more effective fundraiser. Your Asking Style is based on your personality and unique set of strengths when asking for gifts. You'll be confident and comfortable making face-to-face asks once you know yours.
Take our free three-minute quiz to learn how the strengths of your personality can help you raise more money!
Learn about the Asking Styles from co-creator Brian Saber in this quick video!
More ways to learn at Asking Matters: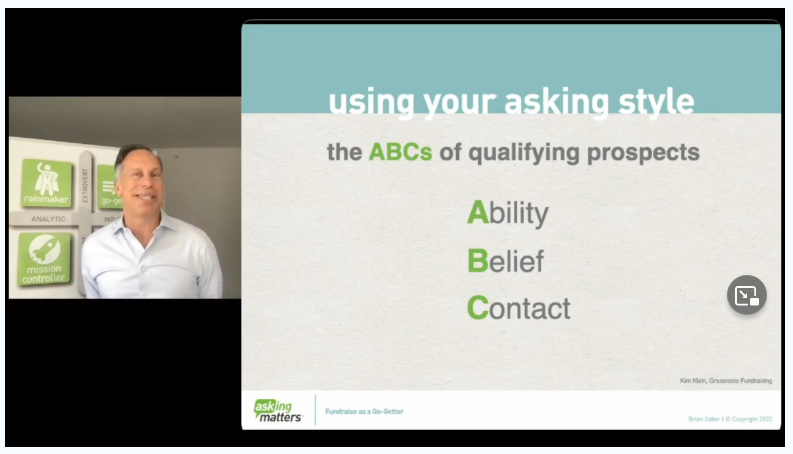 Asking Style Recorded Trainings
In less than an hour, start using your Asking Style to your advantage with potential donors. Get in-depth insight and training with a video training, worksheet, and bonus materials.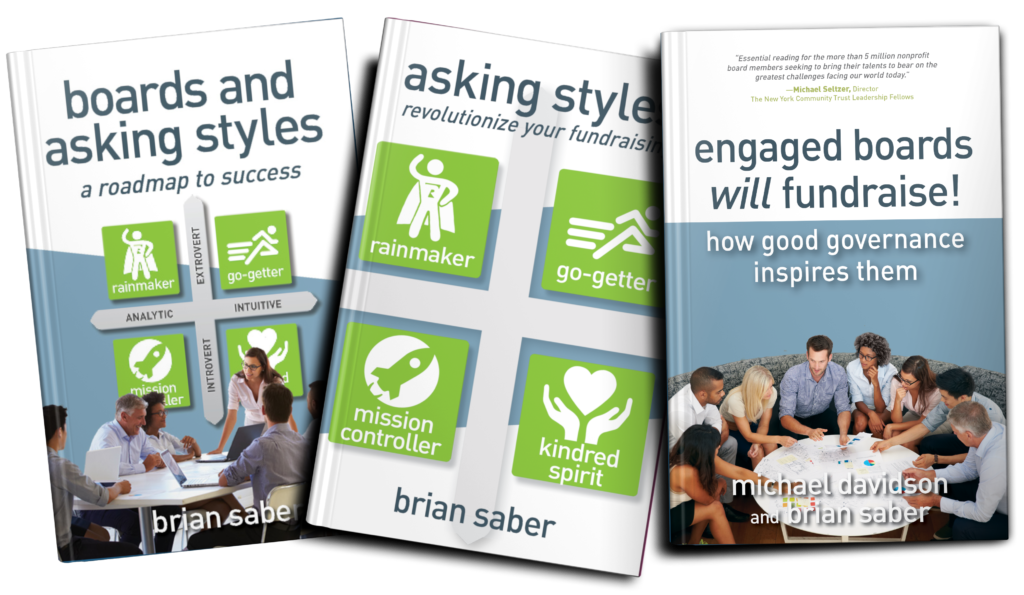 Brian Saber, co-creator of the Asking Styles and Asking Matters, is the proud author of 3 amazing books: Asking Styles: Revolutionize Your Fundraising, Boards and Asking Styles, and Engaged Boards Will Fundraise!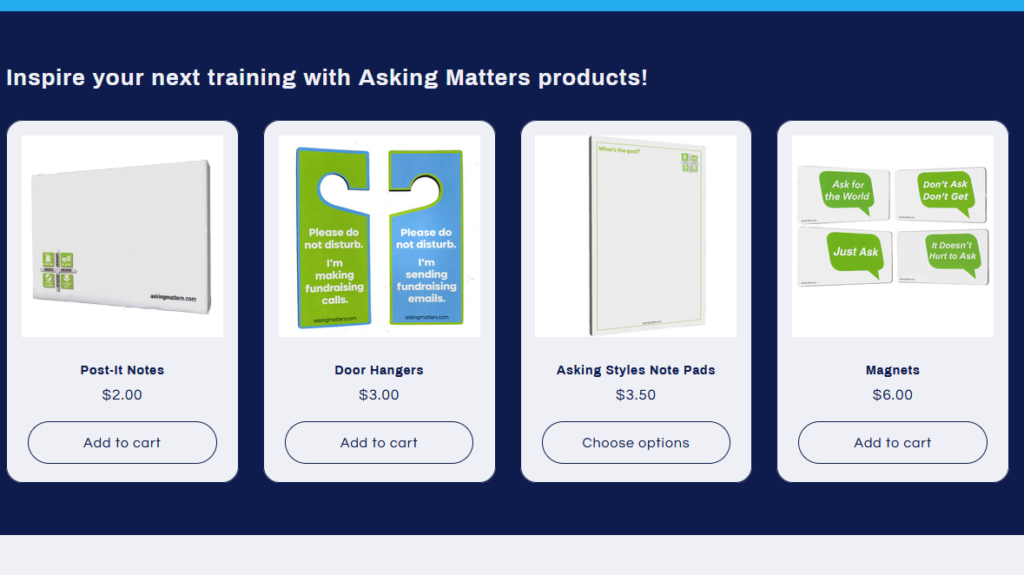 Asking Matters Merchandise
Inspire your next training with Asking Matters products! We have an awesome selection of products to help in your meetings, and to keep you inspired with your fundraising.

Become an Asking Matters Insider for free!
Learn new things every week, keep asking front and center on your radar screen, and be inspired by other Insiders. Insiders get:
Monday Morning Matters: A special piece of asking advice in your inbox at the start of every week to get you started on the right foot!
Webinar Priority: Live webinars every month, presented by me or a guest expert. Insiders get the first chance to sign up for each webinar, and priority for asking questions in advance of the session.
Membership in the Asking Matters Insiders Facebook Group: A community of fellow askers from around the country and the world. Fundraisers with similar experiences – development professionals, executive directors, board members, consultants, and more. Share your struggles, learn from them, and compare notes. The opportunity to connect with so many others who know exactly what you're dealing with is invaluable.
A Vast Array of Downloadable Resources: Exercises, sample materials, guides, and more. Downloadable so you can access your materials any time you need them! This also includes access to a Personal Library, where you can store your favorite resources and webinars!
Discounts on Asking Matters products! Including videos, premium webinars, door hangers, pads, post-its and other great training materials.
Joining Asking Matters Insiders is completely free. There's no obligation or contract – you can cancel your free Insider membership any time. ​
Fundraising Masters with Kenny Sigler
Development Audits: Your Fundraising Physical
Your routine physical is an important part of maintaining good health. I'm assuming you get one because you need that information to make important decisions about your health. Right??
A development audit is your fundraising physical. It's a comprehensive review of an organization's development office. You can see where your investments are paying off and where you have the greatest opportunities to grow.
Stop doing the same things because it is what you've always done. Start planning and executive with confidence using data from a development audit.
See what people are saying about Asking Matters
"When I ran across Asking Matters and the Asking Styles Assessment, I finally realized anyone could ask, and success is based more on catering to one's particular strengths than trying to be something one is not. I feel so much more comfortable with my role now."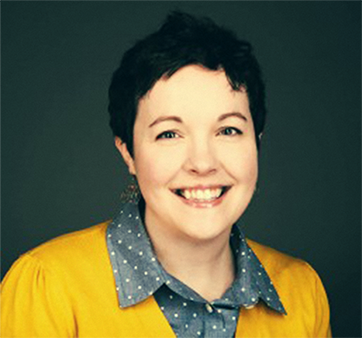 Kylie Pierce
Develoment Officer
Rome Capitol Theatre
Read Kylie's full interview
"Asking Matters does a great job of focusing on the asker and what strengths he or she brings to the table. I find great comfort in being able to approach the asking process through the lens of Styles, particularly when I'm training board members or volunteers."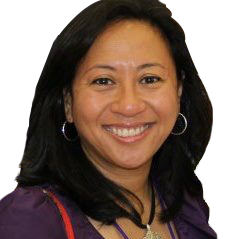 Ninette Enrique
Director of Development
St. Lukes School of New Canaan, CT
Read Ninette's full interview
"It wasn't until I learned about the Asking Styles and that I was a Kindred Spirit that I understood I don't have to be everything to be great at my job and make an impact. This has led to much less stress which means I'm more present, confident, and authentic with donors and prospects."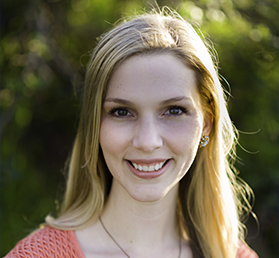 Sarah Janzen
Major Gift Officer
California Academy of Sciences
Read Sarah's full interview