Dear [First Name],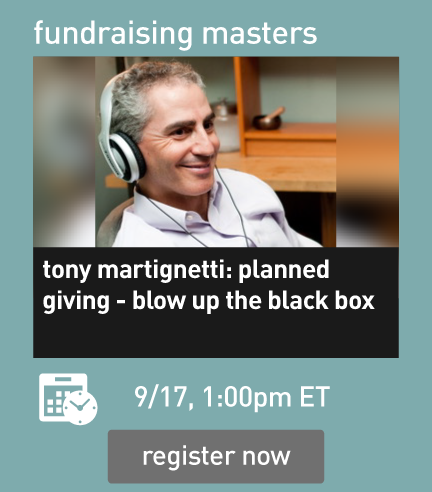 We're bringing you more on planned giving because now is the time. Though in the early days of COVID-19 people were scrambling to get to the next day, as it's progressed people have become very thoughtful about the future. People tend to update their wills and estate plans during big life moments (getting married, having kids, losing a loved one, inheriting) and COVID-19 is one of those big life moments. So now is the time to build your organization's planned giving program.
Tony's a lawyer by training but he'd be the first to say you don't need a law degree — or a lot of money — to start and grow a successful planned giving program that maximizes your donor lifetime value and keeps your nonprofit sustainable. And though he's a lawyer he doesn't talk like one. In plain language, he'll explain:
What planned giving is
Who your best prospects are
Where to start, and
How to promote your new program
Then he'll leave plenty of time to answer your questions!
This FREE webinar will take place on September 17th at 1pm ET. All registrants will get a link to the recording, so register whether or not you can attend live!